OUR ANNUAL EVENTS:
Antique Show:
Held in March each year. Many Dealers have a variety of unique items available for sale throughout the building. Lunch is available. This event is a YWCA tradition that has been held here for over 41 years. Admission is $3 or $2 in advance.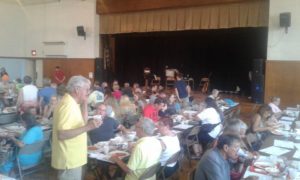 Spaghetti Supper:
Held the first Thursday of the Oil Heritage Festival in July. Our delicious meatballs and sauce are homemade. People can dine in our air conditioned gym, use the drive thru service available behind the building or do take out.
Cost is $10 for adults $5 for kids 12 and under.
Christmas Raffle:
This Raffle is held beginning in October through December and includes several prizes. Each prize is valued at $100 such as a treasure chest full of cash, a lottery ticket tree, gift cards and more! Tickets are 2 for a $1 and a sheet of 10 for $5.
Sweet Treats:
Held the first Saturday in December. This event is another annual traditional for people to come and purchase homemade cookies and enjoy a wide variety of crafts set up by vendors throughout the building. We also have a delicious lunch available. A great way to get into the Christmas spirit! It is part of Oil City's Christmas Past event.
Yard Sale:
Held in April. This is a fundraiser for our Youth Department. Items are donated by our members and community to sell in our gym.